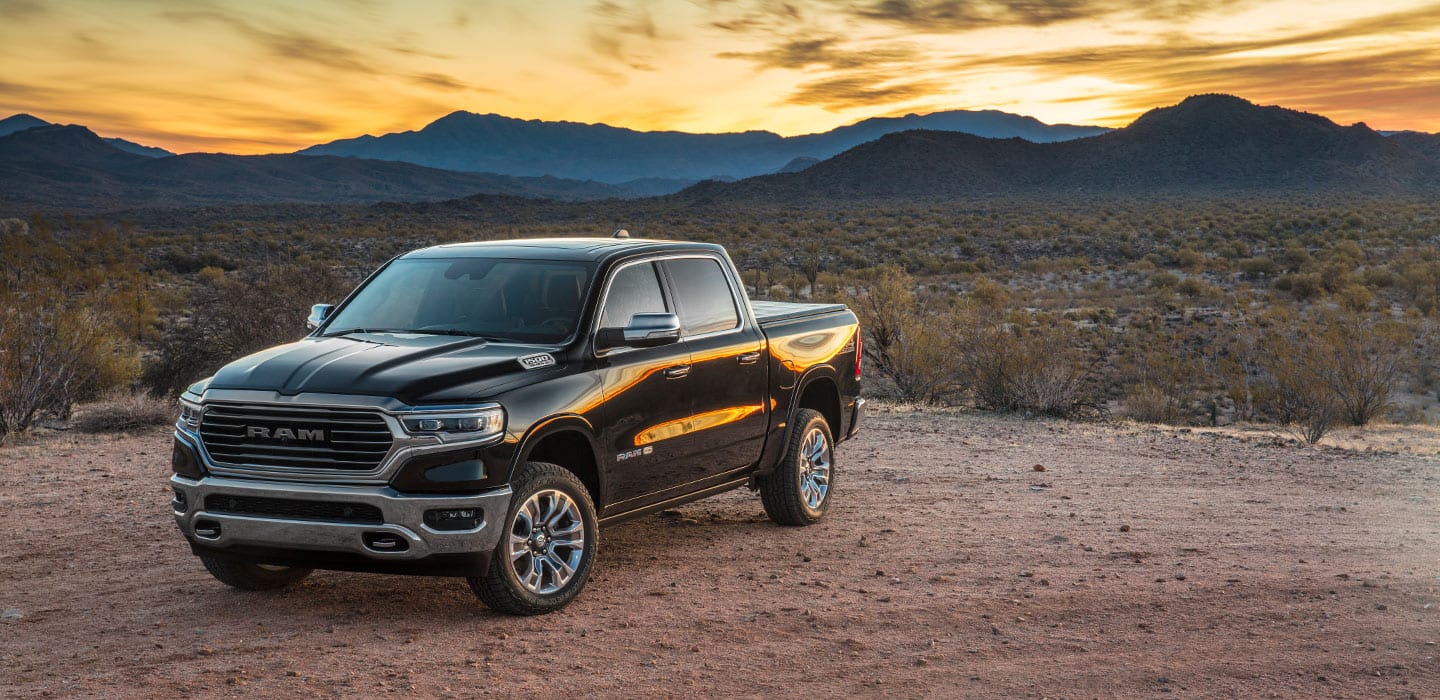 What else do you call RAM trucks but classics!  RAM brings to the market an all-new redesign of its great light-duty truck, the 1500, featuring a fantastic re-engineered exterior style and interior features list.  But, there's no erasing the treasured original that has been a top pick in the pickup truck segment for decades. For those who see this change with a melancholy nostalgia for the RAM they may currently have in their driveway, fear not!  The 2019 1500 is being released in two body styles, the new and the aptly named Classic. These options are otherwise known as the new "DT" and previous years' "DS". The iconic 1500 of the past remains preserved for the years to come, bolstered by the new 2019 technologies that enhance the remodeled edition.  
This legacy edition is decked out with unique "Classic" badging in chrome, accentuating the body's universal chrome detailing upon the bumpers, front fascia, and 17-inch wheels.  Inside, this Classic ensignia is also emblazoned upon its unique carpet covers. The Classic edition also offers plenty of options to suit what you may need your truck for. Provided for this body-type, four trims enhance the standard features and stylization throughout the Classics' models and builds.  These include the base Tradesman, Express, Big Horn/Lone Star, and SSV (Special Services Vehicle), all providing heightened luxury or technology. Along with these trim selections are the variety of body builds. Three cabin and three bed options bring precisely the balance of hauling capability to passenger comfort you need for your lifestyle.  The two-door Regular Cab comes in either a 6'4" or 8' Long Bed, with either two captain chairs or a three-seating bench interior. The Quad Cab is provided in just the 6'4" bed length, giving even balance between hauling and a maximum of six passengers. Maximizing cabin comfort, the Crew Cab gives a comfortable rear seating space with four-door accessibility and four extra cabin inches, coming in both a 6'4" length and a 5'7" Short Bed to be comparable in overall length with the other models.  With all these model and trim options, already the Classic edition is boasting twenty unique builds!
Furthering the power of choice, the 1500 Classic comes with choice of three powertrains and drivetrains, all built with a standard eight-speed automatic TorqueFlite transmission.  First is the award-winning 3.6L V6 Pentastar that boasts 305 horsepower and 269 lb-ft torque, able to tow up to 7,730 pounds. Secondly available throughout all the trim models is the bigger and more powerful 5.7L V8 HEMI.  395 horsepower and 410 lb-ft torque powers a tow capacity of 11,610 pounds. For those who wish for diesel efficiency and power, RAM has promised a 3.0L EcoDiesel V6 later in the year! Also enhancing the power of the 1500 Classic is the choice of 4x2 or 4x4 drivetrains.  The segment-exclusive multi-link rear coil suspension provides the foundation for fantastic handling and stability, providing a best-in-class ride that many drivers have adored. Whatever the trim, model, and powertrain you choose, RAM protects your truck with a 5-year, 60,000-mile warranty.
RAM is famous for its great options and comprehensive builds, providing great trucks and performance for nearly every need and lifestyle.  From the all-new 1500 to the 2009 debut of the iconically preserved Classic edition, RAM provides a style and build that suits exactly what you're looking for in aesthetic and technology.  Newark DCJR is here to service all your pickup questions, service needs, and shopping, providing you a large inventory of 1500s that you can preview now to find the exact truck you want! We also have specific articles on the new systems that have enhanced the power and handling of the 1500, and have a further detailed account of the standard technology and safety features found within our 1500 model review.  We welcome you to explore on and call us up for any additional information you may need in making your next test drive and purchase.