The strongest RAM 1500 produced has been released for the 2019 model year, increasing power, handling, and capabilities to tackle jobs easier and haul with maximized efficiency.  In the competitive market of heavy-duty half-ton trucks, innovation and improvements are key to make a successful vehicle that's long lasting, dependable, and durable. RAM has perfected their formula to earn a number of awards, critic recognition, and, most importantly, the loyalty of a wide customer base.  This is "the most technologically packed truck on the market," according to the Popular Mechanics Automotive Excellence Awards, class leading in all the areas you need and want a half-ton truck for. The powertrains and handling improvements for 2019 are fine-tuned to perfection, providing unrelenting capabilities for your professional or personal life.  Here's what's new in the 2019 RAM 1500.
Best of the Best: The Powertrains
Reengineered from the ground up, the 1500 was built to provide the benchmark for 2019's half-ton market's strength and capability standards.  Provided in most trim models, the 1500 upgrades to the 3.6-liter Pentastar V6 engine. 305 horsepower gives a hearty, energized feel behind every press of the throttle.  The newest addition to this great system is the mild hybridization thanks to an advanced eTorque system. The 48-volt battery pack and motor replaces a standard alternator, speeding up the start/stop system and vastly improving the truck's torque output.  When the power is necessary, the eTorque adds up to 90 lb-ft to produce a total of 269 lb-ft, raising the towing capabilities of this engine to 7,700 pounds. This system can also be paired with the next engine up. The amazing 5.7-liter HEMI V8 engine provides a thrilling 395 horsepower.  eTorque, when equipped to the V8, increases its output and adds 130 extra lb-ft of torque. The result: best-in-class V8 towing of up to 12,750 pounds and maximized payload weight of up to 2,300 pounds! The V8 also comes standard with variable valve timing and cylinder deactivation to enhance the truck's fuel economy when the extra power isn't necessary.  Both engines are paired with TorqueFlite's next-generation eight-speed automatic transmission, delivering power where it's needed between the four tires. Cooling down all this legendary power is an industry-first heat exchanger system, quickly warming rear axle gear oil for less friction and better performance. Optional on all models and standard within the Rebel trim configuration is an all new electronic locking rear differential.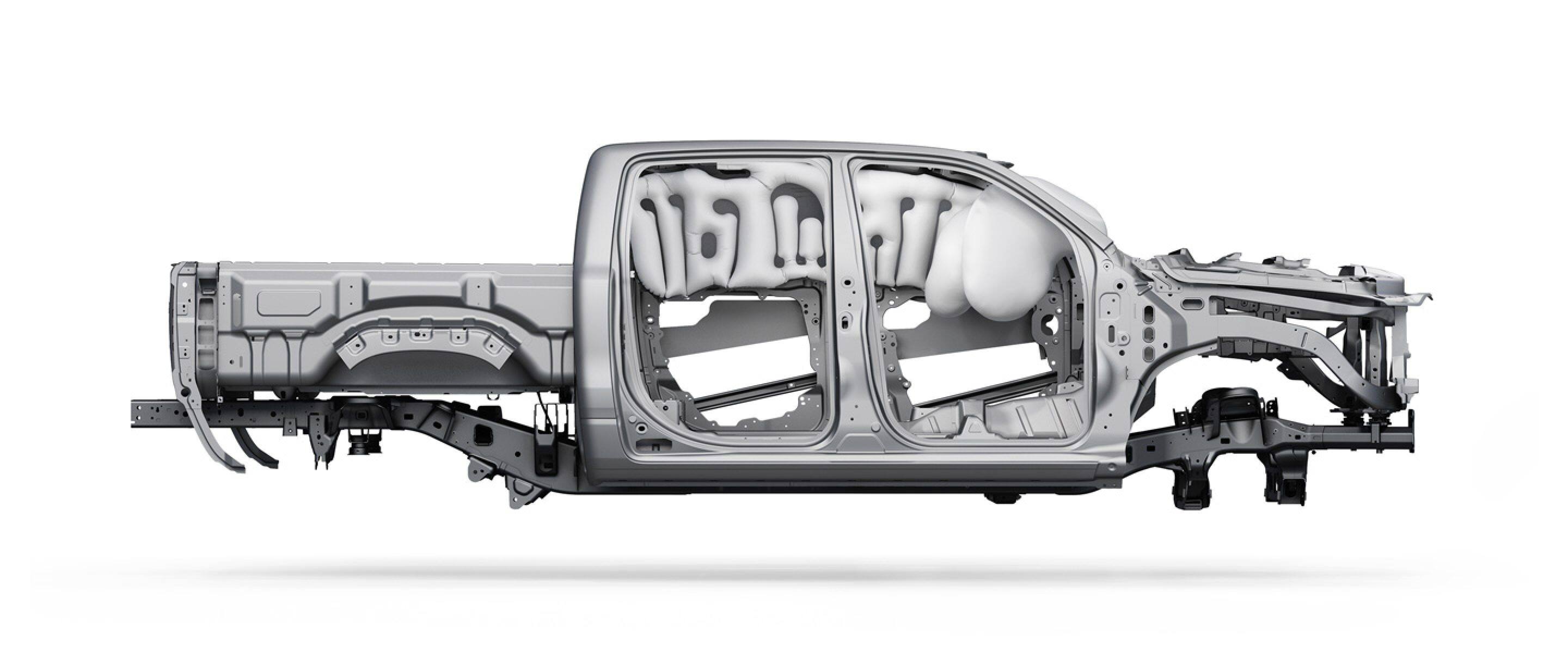 Reengineered From the Ground Up: Handling Improvements
RAM paid commendable attention to the details when improving the 1500's 2019 model.  Starting off with the very building blocks of the truck, the frame is produced with a 225-pound lighter high-strength 98% steel frame.  Decreasing this hefty weight allowed for RAM to improve the fuel efficiency, provide more content, and raised the performance outputs all in one fell swoop!  The new build also takes advantage of several components being aluminum engineered when practical to do so, such as with the hood, tailgate, engine mounts, front suspension crossmember, transmission crossmember, and steering system gear.  Also in consideration to fuel consumption, the 1500 is the most aerodynamic pickup within the half-ton segment, with only a .357 coefficient of drag and standard features such as grille shutters, air dam, and air suspension.
Handling, smooth driving, and noise cancelling technology have also been built into the 2019 1500 to provide a supremely comfortable ride no matter the road or weather conditions.  The 144.5-inch short bed or 153.5-inch long bed total wheelbase lengths provide utmost stability and control and maneuverability that drives like a dream. The truck's turning radius is only 46.2 feet!  All-new four-corner Frequency Response Damping shocks are paired with a next-generation, class-exclusive air suspension handles even the bumpiest of uneven terrains. Dependable handling doubles as peace of mind; the 1500 is outfitted with the largest 14.9-inch front brakes in its class, as well as a new electric parking brake, providing timely and guaranteed stops time after time.  For those who want a little more adventure, the new 4x4 Off-road Package comes with a one-inch lift suspension, electronic locking rear axle, tuned shocks, and specialized Hill Descent Control to handling the roughest, unexplored areas you'd want to journey to.
From superb design and comfort to heightened performance and power, the 2019 RAM 1500 has been designed to set a precedent you won't find anywhere else.  Best in class towing and hauling capabilities make this truck an all-utility vehicle, handling your toughest job or your biggest hobbies. Have any questions?  Feel free to contact us, and we'll happily answer your queries. Think the RAM 1500 is the truck for you? Our latest inventory is updated every day to help you find the perfect model, powertrain, and features list.