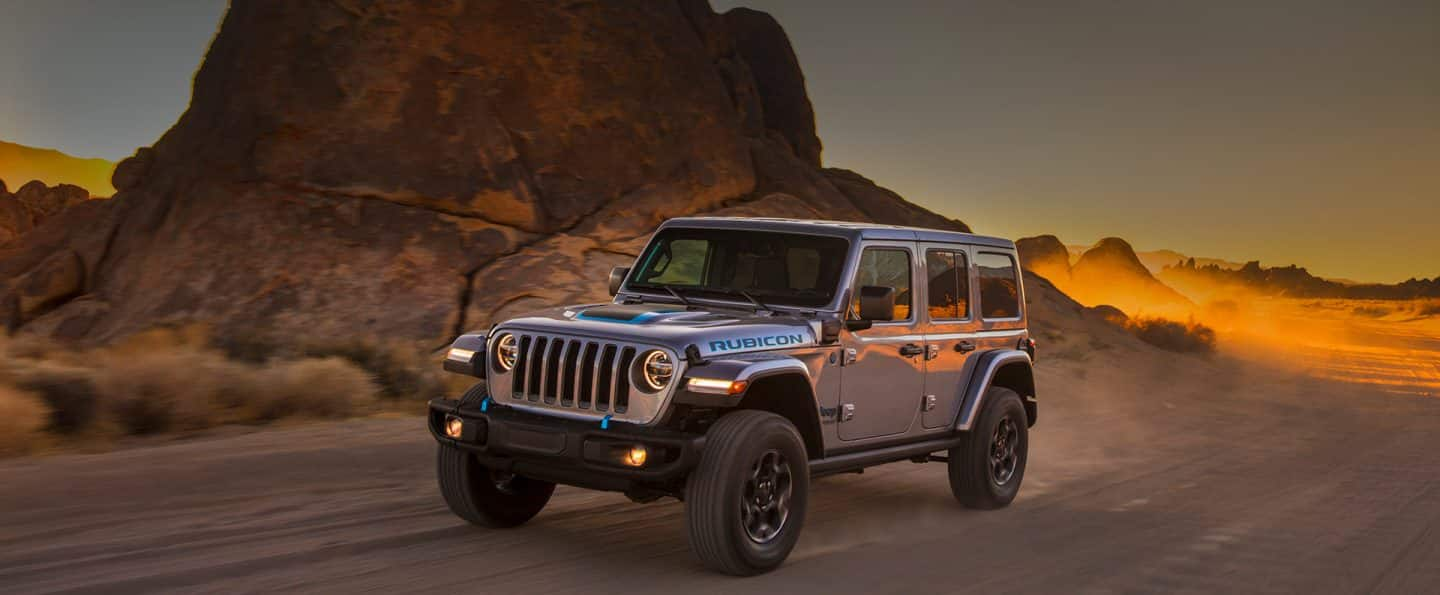 2021 Wrangler 4xe Wins Green SUV of the Year Award
Presented by Newark CDJ
Jeep has announced that 2021 will bring an electrified Wrangler. The Wrangler 4xe plug-in hybrid will provide 375 horsepower, 470 lb-ft of torque, and can go 0-60 MPH in six seconds, all while providing up to 50 miles of completely silent electric driving and up to a 400-mile driving range. The 4xe will be manufactured in the FCA Toledo Assembly Complex in Toledo, Ohio, and start to roll into showrooms in December 2020. These are just a few of the reasons Green Call Journal has already named the 4xe Green SUV of the Year. Continue reading to learn more about this remarkable new Wrangler.
New Drivetrain, Same Off-Road Legend
Before all you off-road enthusiasts grumble at the word hybrid, let's take a look at the specs. The Wrangler is a world-renowned off-road legend, and for good reason.  The 4xe still bears the Trail Rated badge, the legendary Wrangler 4x4 system, two-speed transfer case, over 10 inches of ground clearance, 30 inches of water fording, and fully articulating suspension. The integration of gas and electric power with the 4x4 drivetrain actually enhances the Wrangler 4xe's off-road prowess by a lot allowing you to venture even further.
How is the 4xe Powered?
The Wrangler 4xe combines a 2.0-liter inline-4 engine with two hybrid motors, a TorqueFlite 8-speed automatic transmission, and a high-voltage battery pack. One electric motor is mounted to the cylinder head, and one is mounted in front of the transmission. Torque is immediately available on-demand to the driver from the two electric motors. The 4xe includes E Selec mode to allow drivers to select which power mode best fits the trip they're on. Hybrid is the default mode that combines power from the engine and the electric motors, providing a seamless stop-start function of the engine. The electric mode button utilizes only power from the electric motors for fuel-saving driving in the city or quiet off-roading with the best horsepower and torque it has to offer. E-Save mode uses just the power from the 2.0L I-4 engine to save the electric motors' power for later.
Jeep Wrangler Inventory at Newark CDJ
Without even rolling into showrooms, the Wrangler 4xe is already making waves and earning awards. Combining Jeep's legendary off-road capability with the fuel efficiency of a hybrid makes for one great all-terrain vehicle. While you wait for the 4xe to roll out, check out our wide selection of Jeep vehicles. With the 4xe rolling out next month, we also invite you to inquire with any one of our friendly sales team members. We look forward to serving you!