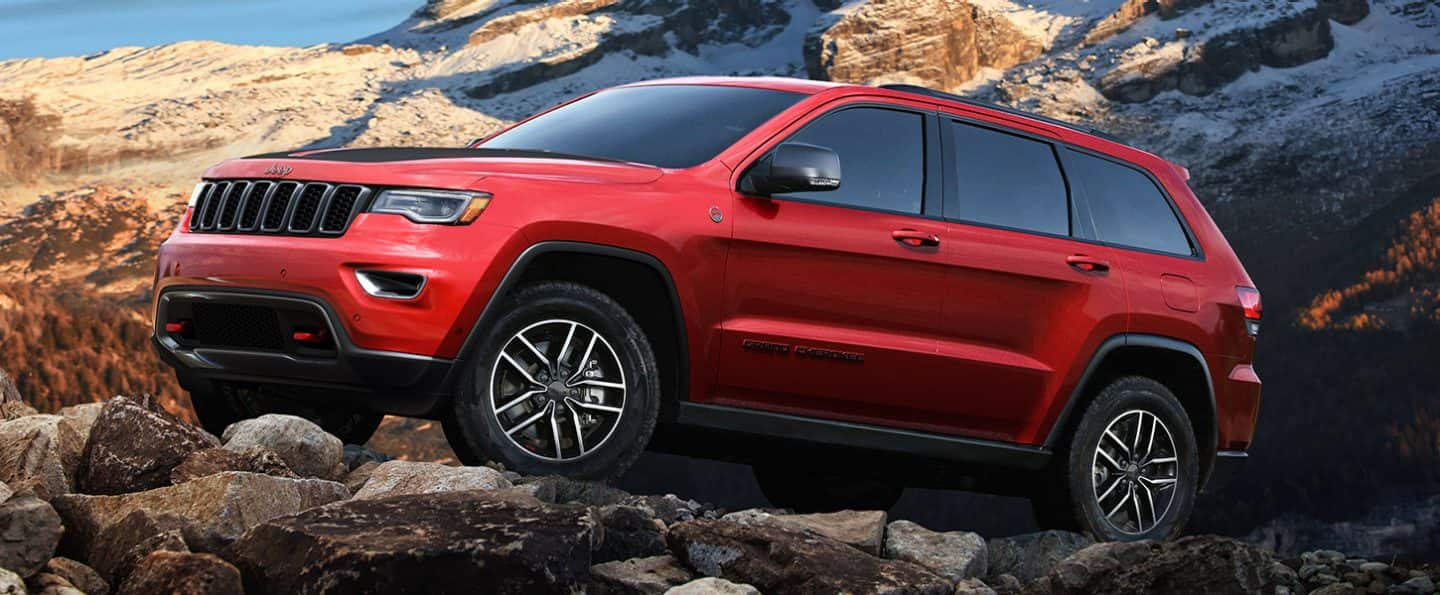 Jeep Off-Roading FAQs
Brought to you by Newark CDJR
A lot goes into off-roading. A lot more than just buying a capable vehicle and hitting the trails, that is. Jeep vehicles are the prized possession of off-road enthusiasts everywhere. Drivers just starting out on their off-roading endeavors have a lot of questions, and it's good to get them answered before heading out onto the trails. Below, you'll find a few of the most frequently asked questions and detailed answers to give you the knowledge you need before venturing into the wild. When you're done reading, we invite you to check out our full Jeep inventory right here on our website and come down to the showroom for a test drive.
What is the difference between all-wheel drive, full-time, and part-time 4x4 systems?
Full-time 4x4: Jeep's full-time 4x4 system functions in a four-wheel-drive by default to provide safe travel in all weather conditions. Full-time 4x4 utilises either a clutch or a center differential to turn the front and rear driveshafts at varying speeds. Whether the road is dry as dirt or covered in snow, you get total road confidence with full-time 4x4.
All-wheel drive: All-wheel drive is almost the same as full-time four-wheel drive. It powers all four wheels simultaneously. It can be used full-time on all road surfaces, including dry pavement, similarly to four-wheel drive. The only significant difference between 4WD and all-wheel drive is that the 4WD system comes with a "4-low" setting and the AWD system does not. This 4-low setting is more useful in serious off-road settings.
Part-time 4x4: Part-time 4x4 defaults as a two-wheel drive vehicle. Unlike full-time 4x4, the part-time doesn't use a center differential. Instead, the system locks the front and rear driveshafts, providing maximum capability on the trails or on difficult road conditions. On normal road conditions, drivers should switch to two-wheel drive mode.
On-demand 4WD: This system operates mainly in two-wheel drive on normal road surfaces. When the vehicle comes across a slippery surface like mud or snow, 4WD is automatically engaged to transfer power to the secondary axle.
What is Selec-Terrain and how does it work?
Selec-Terrain is Jeep's traction management system. It offers five different drive modes, Auto, Snow, Sand, Mud, and Rock mode. Each setting optimizes the vehicle's drivetrain systems to provide the best traction in the specific terrain. The Selec-Terrain system is easily controlled by a rotary knob on the center console. Having the different driving modes give you the best possible driving stability by coordinating the vehicle systems like Electronic Stability Control, throttle control, transmission shift points, transfer case, and traction control.
How should I prepare my vehicle for off-roading?
It is vital to give your vehicle a complete check before hitting the trails. When you do so, make sure your battery is fastened properly, all hoses are in good condition, all four tires have good tread and proper inflation, and that all fluids are topped off, including oil and fuel. You should avoid off-roading alone, especially when trying out new trails. If you're not sure how to check these things, bring your Jeep down to the service center at Newark CDJR.
How fast should I drive on the trails?
Driving on rough off-road terrain requires finesse and precision rather than speed and power. In low-range 4WD, and low speed of Jeep 4x4 vehicles at idle will oftentimes pull you over obstacles. If you drive a Jeep with a manual transmission, letting out the clutch slowly can often allow the vehicle to crawl over rocks and logs in the lowest gear. In fact, the average speed of vehicles on the Rubicon trail is 1-5 MPH.
What is proper off-roading etiquette?
As with many other outdoor sports enthusiasts, off-roaders are very protective of the nature in which they roam on. Observe the signs on the trails and only travel on recreation areas approved for off-roading. Use your best judgment to protect the land on which your traveling. Don't leave anything behind on the trails, better yet, remove any trash left behind by others. A good rule of thumb is to leave the trail in better shape than you found it. If the trail looks fragile, take an alternate route.
Find your next Jeep 4x4 at Newark CDJR
Looking for an SUV that fits all of your off-roading needs? Make your way to Newark Chrysler Dodge Jeep Ram to check out our wide variety of new and used Jeep vehicles on our lot. Whether you're an experienced off-roader or just starting out, we're sure to have the perfect vehicle for you. Our sales professionals are ready to answer any questions you may have about any of our new or pre-owned Jeep vehicles. If you'd prefer to shop from the comfort of your own home, you can find our full Jeep inventory right
here on our website
!