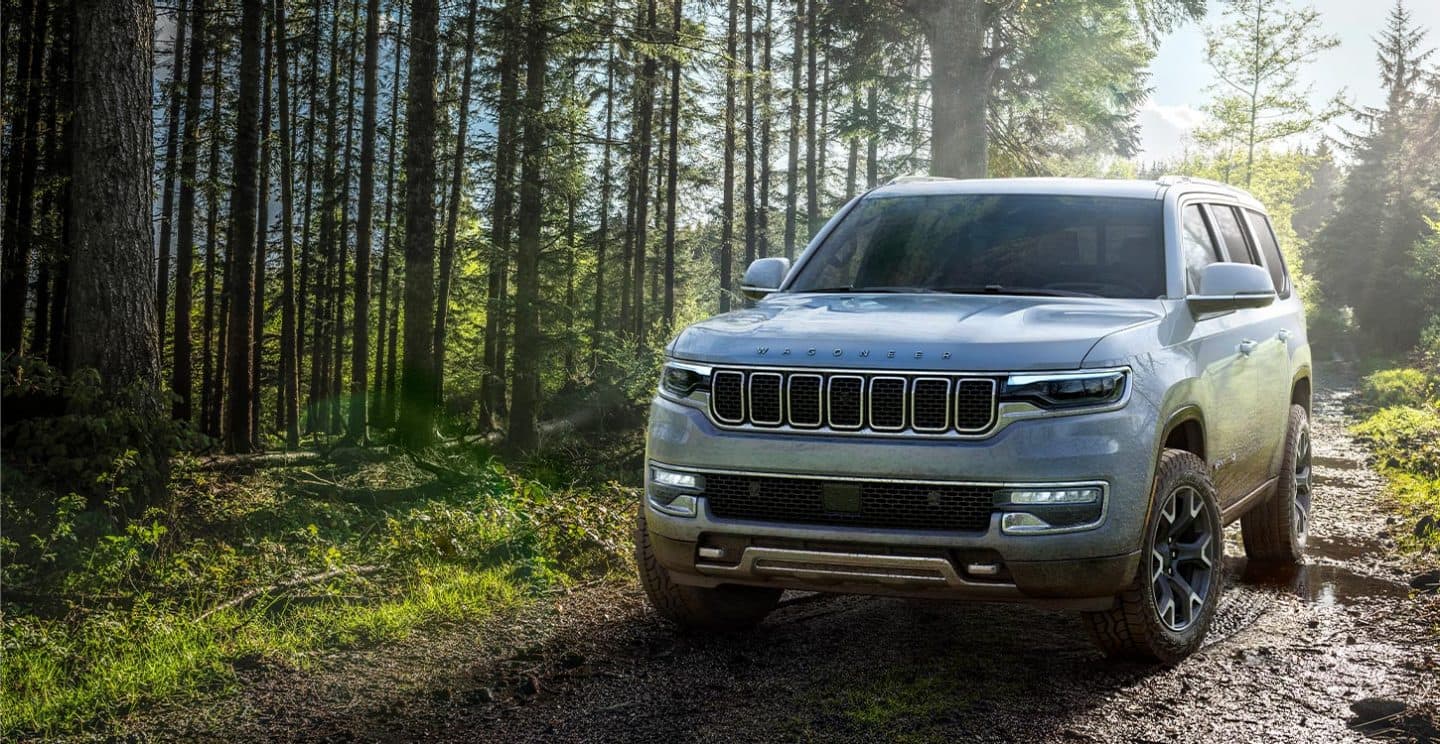 Off-Road Capability of the 2022 Grand Wagoneer
Presented by Newark CJD
The Grand Wagoneer joined the Jeep lineup in 1984 and quickly became recognized as the industry's peak of luxury and capability. It was the first vehicle to combine a four-wheel-drive system with an automatic transmission, as well as other combinations that car buyers hadn't seen before. After the Grand Wagoneer's production was discontinued in 1991, it is finally returning in the Summer of 2021. The 2022 Wagoneer is set to re-enter the automotive industry the same way it did in its early days. The Wagoneer will offer a potent V8 engine, three available drivetrains, a traction management system, and four-corner air shocks to make it one of the most capable full-size SUVs on and off-road. Continue reading below for an insider look at the off-road capability of the 2022 Grand Wagoneer!
What engine and transmission does the Grand Wagoneer use?
The 2022 Grand Wagoneer employs a 6.4L V8 engine that cranks out 471 horsepower and 455 lb-ft of torque. The engine pairs perfectly with a robust TorqueFlite 8-speed automatic transmission with the next generation of eTorque 48-volt hybrid technologies. These technologies include Variable Cam Timing and cylinder deactivation. The eTorque system provides the Grand Wagoneer with fantastic performance and efficiency.
What drivetrains are available?
As we previously mentioned, the Grand Wagoneer is eligible for three available drivetrains, Quadra-Trac I, Quadra-Trac II, and Quadra-Drive II. Each system operates in a full-time 4WD setting. All three systems utilize a network of high-tech sensors to monitor wheel spin for a loss of traction. When the sensors pick up wheel slippage, the system will automatically adjust itself to limit the slip so you can stay on track. Quadra-Trac I operates with a single-speed transmission to redistribute torque in the case of a loss of traction. Quadra-Trac II acts the same and employs a two-speed transfer case with an Active 4-Low setting for top-tier handling on rugged terrain. Quadra-Drive II also employs a two-speed transfer case but adds the maximum all-weather control of an electronic limited-slip rear differential.
What is the Grand Wagoneer's traction management system?
The Grand Wagoneer is available with Jeep's Selec-Terrain traction management system. The system comes with five selectable drive modes on a rotary dial placed within easy reach of the driver on the center console. When the dial is in Auto mode, the four-wheel-drive system will be in control and automatically adapt to any changes in road or weather conditions. Snow mode optimizes the four-wheel drive and traction control systems to provide drivers with the best possible grip on snow-covered roads. Sport mode adjusts throttle control and transmission shift points and lowers the air suspension to Aero mode to provide maximum aerodynamics, performance, and efficiency. Sand/Mud mode puts the air suspension in Off-Road 1 and adjusts the four-wheel-drive system to instantly respond to wheel spin with the correct torque distribution to keep all four wheels going where they should. The last drive mode is Rock mode. This raises the air shocks to Off-Road 2 for the maximum ride height of 10-inches of ground clearance while the transmission, throttle, differentials, and transfer case work together to provide ultimate control on even the most challenging terrain.
What are the benefits of air suspension?
The Grand Wagoneer will utilize the extraordinary capability of Jeep's Quadra-Lift air suspension. This system has five different ride-height settings to provide optimal ground clearance no matter where your travels take you. The first setting is NRH or Normal Ride Height. This provides drivers with 8 inches of ground clearance. Park mode lowers the air shocks to 6.4 inches of ground clearance for easy entrance and exit for passengers in all three rows. Aero mode lowers the vehicle to 7.4 inches to provide optimal aerodynamics for fun-to-drive and efficient highway driving. Off-Road 1 raises the suspension to 9 inches of ground clearance for light off-roading or better ground clearance over snow. Off-road 2 provides a maximum ride height of a tall 10 inches of ground clearance for rugged terrain.
2022 Grand Wagoneer at Newark CJD
The Grand Wagoneer will return to the top of the premium SUV segment as soon as it rolls out of the factory in the Summer of 2021! It is already gaining buzz as one of the most capable full-size luxury SUVs on the market, and after reading this page, it should be clear why! If you're interested in getting into the 2022 Grand Wagoneer, you can reserve yours
right here
online today. For more information, we invite you to contact our friendly sales department either
here
online or by the phone!